Smothered is now available from ICOE Press and online.
When Alan's mother rings to beg him to return to the family home for the final weeks of his father's life, he baulks, unwilling to be around the man who tried to control every moment of his childhood and adolescence. But he is at the dying man's bedside when his father makes an extraordinary request. Alan is tempted but does he follow through?
Smothered is the coming of age story of a socially isolated young man told with unsparing skill and sympathetic insight.
Alan grows up in a baffling world of stifling normality. His father, Tosh, is an ambitious man of more energy than talent; his mother is a caring woman who accepts the necessity of being seen to respect a conventional life. As he struggles to find purpose and worth, Alan is drawn through a tangle of drugs, self-harm, and self-serving friendships, always unable to free himself from the quagmire of family life and expectation. His final confrontation with his father and his past is both terrifying and consoling.
Smothered is a work of great understanding, told with skill, humour, and compassion.
To sample, click on: https://icoe.com.au/bookshelf/smothered/smothered.html
Place an order at ICOE Press
Macaulay Station is now available from ICOE Press and online.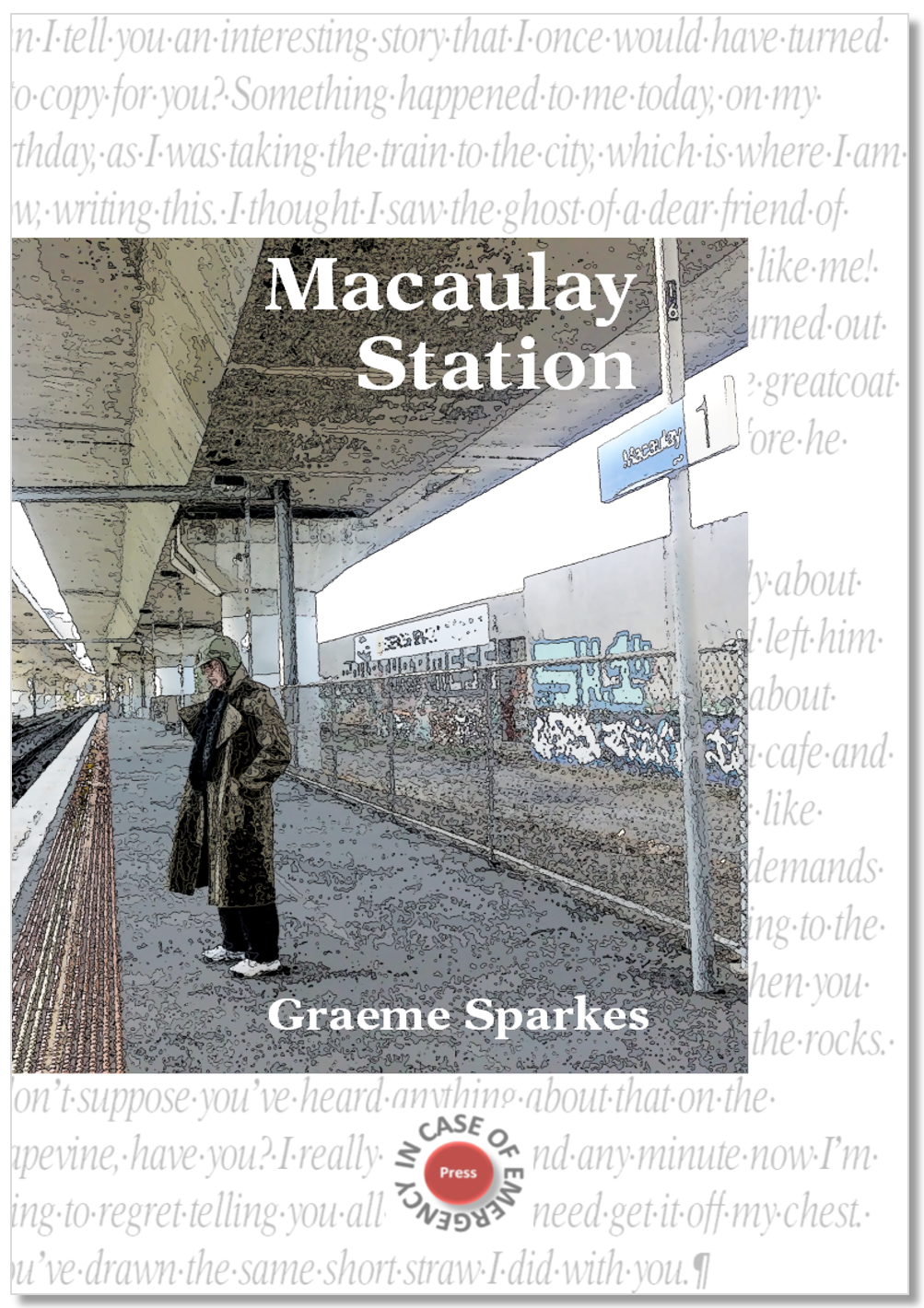 Macaulay Station is a lament and a celebration. Frank Munro has lost his close friend Charlie, dead just one year, his career is a mundane casualty of the technological revolution, his youth is a memory, another casualty of the tyranny of time.
Frank Munro has had change thrust upon him. He's trying to adapt. Once an award winning journalist, Frank has been put out to pasture, but he is fighting to renew his purpose, renew his life, and save the woman he loves from her disastrous infatuation.
Can a conversation with a dead man on Macaulay Station point the way?
A novel for anyone who has glimpsed the future and didn't like what they saw.
Place an order at ICOE Press
You Never Met My Father, 2014, JoJo Publishing

"Beseiging police defied by armed man. Detectives parley. These were headlines from The Argus (Melbourne) on the 30th November, 1951. The front page of newspapers across Australia bore similar news. The gunman was Denny Sparkes, my father."
A mentally ill father marred Graeme Sparkes' childhood. With a diagnosis ranging from psychotic, to schizophrenic, to just a plain old malingerer, Denny Sparkes' 'emotional immaturity' would affect not just his son, but through adoption his grandson. Interspersed with public records of his father's actions, this story also examines memory and how the mind can confuse what is real and what is remembered.
Examining mental illness and its affects on the family, this memoir is a beautifully written and heartfelt account by the author of Beyond Tijuana and The Red Island.
Tony Wright, The Age, wrote:
"[O]ne of Australia's more vivid memoirs….. a wonderfully crafted and pitilessly honest trip behind the doors of his real life….It is a perceptive sometimes humorous story about the anguish of growing up and not fitting in."
(JoJo Publishing has ceased to trade.)
Beyond Tijuana, 1995, Text Publishing
"Foreign lands never yield their secrets to a traveller. The best they offer are tantalising snippets, just enough to inflame the imagination. The secrets they do reveal are your own – the ones you have kept from yourself. And this is reason enough to travel, to leave home."
Graeme Sparkes travelled with his companion, Tania, through Latin America in 1992, experiencing its cultural and natural wonders, but also witnessing the travails of life in a dozen countries, some where civil war had recently ended. There are poignant moments and hilarious interludes from Ecuador right up to the Mexican-US border.
This is an account as much about the foibles of travellers as exotic lands.
The Red Island, 1997, Text Publishing
"In all the years of exposure to its image, nobody had taken the trouble to tell me how beautiful Uluru was at close quarters. The distant view of the monolith weighing down the earth was mundane compared to the perspective from its base. Its towering walls were streaked with black watermarks and pitted with deep cavities where lightning had struck. Boulders littered the ground. A harsh climate had caused the sandstone to crumble and fall away. The surface was scaly. I understood why the Anangu believed a reptile dwelt within. For the Anangu, who kept out of sight, this was home: a mighty rock set in a desert wilderness, set upon by hordes of tourists. Of course the Anangu could travel anywhere, but before white intruders came, this was their realm. I had travelled the world, crossed three or four continents, seen deserts, jungles, glaciers, immense cities. It hardly took an effort on my part, less effort than the first whites took to travel to Uluru. The breadth of my experience of the world was vast, if somewhat thin. And it came at a price. The price was a sense of attachment and a universe of manageable proportions. I broke my hike near the eastern end of Uluru to watch a small hawk that was gliding across a concave section of the rock face, high up and barely visible. Eventually, it drifted away from the cliff, and I lost it in the pure blue of the morning sky."
In 1996 Sparkes undertook a journey around his own country, travelling mainly on buses, staying in backpacker hostels, discovering a land that was every bit as exotic and unexpected as many places he had been to overseas. This is a beguiling story about the locals and overseas travellers he encountered along the way.